Today congratulations on his 71st birthday go to Claudio Ranieri, an outstanding coach, a man of exceptional integrity, a genius of team building, crisis management and player discovery.
Ranieri is my favorite coach. I was a Claudio fan (probably the only one in the world) before it became mainstream in 2015; I still am after it stopped being mainstream in 2016-17.
But even if we think not from the perspective of a great admirer of Ranieri's coaching and human qualities, but from an objective point of view, Claudio is the most unique, the greatest phenomenon in the history of soccer.
First of all, Ranieri is the best coach-builder in history. The genius here is not only that CR is brilliant at building strong teams and laying the foundations for future victories, but also that Ranieri has almost always built on scorched earth, without stars, without money and in a fairly short time frame.
Among the outstanding teams built by Ranieri are Valencia, which with Cooper played twice in the Champions League final and with Benitez was twice champion of Spain and won the UEFA Cup; Chelsea, which with Mourinho and other coaches for years stamped titles in England and went far in the Champions League; Monaco, which with Jardim became the champion of France and played in the 1/2 of the Champions League; Fiorentina, which with Trapattoni fought for the Scudetto and successfully played in the Champions League; Cagliari, which with Radice got to the 1/2 of the UEFA Cup.
As we can see, it was always KR who built, and the fruits of his work were reaped by other specialists. This is another important moment of Ranieri's coaching destiny.
At Juventus, Roma, Nantes, to a lesser extent at Inter, KR also did a great job of building the foundations, but he was quickly and unreasonably dismissed, and his successors were very weak specialists – as a result Claudio's work turned out to be crossed out.
The second genius of Claudio is the genius of the best crisis manager in the history of soccer. There has never been and probably will never be another coach who has so many times taken teams that were at the bottom and raised them from the bottom as many times.
Valencia, Chelsea, Parma, Roma (twice), Inter, Fulham, Sampdoria, Watford Ranieri managed during the season. One does not usually change a coach in the middle of a season for the good life; and one who arrives in the course of a season usually gets a not very good legacy from his predecessor.
Lamezia, Puteolana, Cagliari, Fiorentina, Monaco, and Juventus KR hosted as teams from the lower divisions. And when the team ended up in the lower leagues, again, this circumstance is not favorable for coaching.
Throughout his career, Ranieri achieved results not because of conditions and circumstances, but in spite of them. This is another crucial point of CR's coaching fate.
But thanks to Ranieri Cagliari in 6 years (1988-94) they went from being relegated to the UEFA Cup semi-finalist; Monaco in 5 years (2012-17) went from the outsider of League Two (Division Two) to the champion of France and semi-finalist of the Champions League; Leicester in one season transformed from the outsider of the APL (which previously played in the lower leagues for 10 consecutive years) under Ranieri into the champion of England.
Roma in the course of one season (September 2009/April 2010) went from last place (where it was at the time of Spalletti's dismissal and Ranieri's arrival) to first. There was also, for example, the miraculous rescue of Parma, which KR lifted from the relegation zone to the middle of the table in 3 months in the 2006-07 season. Who else could do something like that?!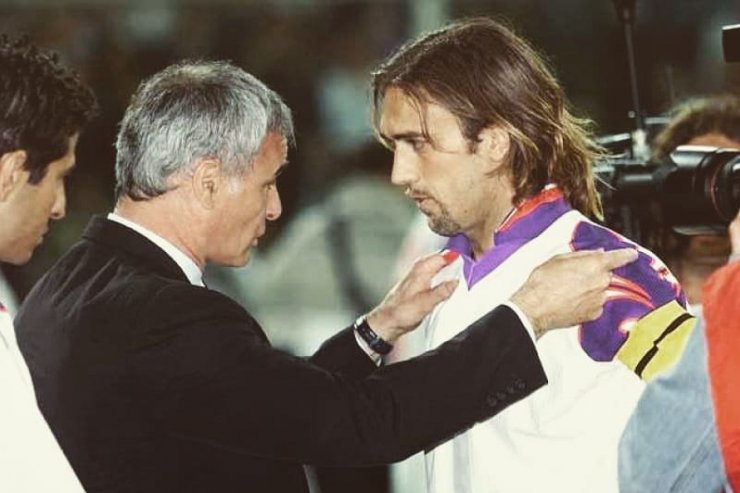 Ranieri's third genius is his amazing ability to reveal players. Fabio Cannavarro, Gianfranco Zola, Gaisca Mendieta, Claudio Lopez, Rui Costa, Francesco Toldo, Gabriel Batistuta, Jimmy-Floyd Hasselbaink, William Gallas, Frank Lampard, John Terry, Giuseppe Rossi, Jamez Rodriguez, Leuven Kurzawa, Fabinho, Yannick Ferreira-Carrasco, Kasper Schmeichel, Jamie Vardy, Wes Morgan, Ngolo Kante, Mikkel Damsgaard. Who do these and many other players have in common? A coach under whom and thanks to whom they either opened up, or reached a qualitatively new level, or simply showed the best soccer of their career.
I only named the famous players, and not all of them. And there are plenty of other examples, like Julio Sergio. Nowadays that name doesn't say much to anyone, but in 2009-10 he was the best goalkeeper in Sergio Sergio, who played fantastically; in particular, he saved the penalty shootout in the legendary Rome derby, when Ranieri replaced Totti and De Rossi and Roma won. Sergio was then already 31 years old and was a deep bench player before Roma. But Claudio took Sergio out like a trump card from under the groove and squeezed the absolute best soccer of that player's career out of him.
Or this example: Delpiero became the only time in his career that Ranieri was the top scorer in Serie A, and Camonaresi, also the only time, became the player of the year in Italy. And the first was already 34 years old and the second – 32. Claudio Delpiero made the famous winning double for Real Madrid at the Santiago Bernabeu.
Daniele de Rossi also had his absolute best season (2009-10) under Ranieri; that season, in addition to his excellent performance of his direct duties, DDR scored a cosmic 11 goals for a defensive player. Undoubtedly, Ranieri is a genius in terms of his ability to find an individual approach to any player, to reveal his strengths, to squeeze the maximum out of him.
So, even if Ranieri hadn't pulled off the Leicester miracle in the 2015-16 season, he would still go down in history as the greatest coach ever – even though he won few titles. After all, titles are usually taken with stellar, moneyed, wealthy teams that CR never coached.
In fact, not once in Ranieri's 30-year career has there been such a thing that when he came to another club, he would have received a ready, built, strong team from his predecessor, and a tidy sum for transfers and credit from the management. It was always the other way around.
The working conditions available were almost always not Claudio's ally, but his adversary. Even Juventus, at the time he was coached by CR, had probably the weakest squad in their history. Never mind the conditions at Roma or Monaco!
But winning titles with stellar, moneyed, wealthy teams can be done by anyone, or almost anyone – it's not an indicator. But to do what Ranieri can do and almost always has done – it requires great skill and is not possible for everyone.
That's why Claudio – a genius of construction, crisis management and player discovery – would in any case stand above freeloaders like Lippi, Ancelotti, Capello, Ferguson, who have nothing but cups taken with superstar and expensive teams. You'll forgive me my habit of looking Truth in the eye and calling things by their proper names!
But Ranieri also pulled off the Leicester miracle. In the most moneyed, stellar and competitive league in the world, Claudio made the champion of the perennial outsider, who before the start of that season also lost their leading player (Cambiasso).
After that, Ranieri unquestionably went down in history as a model of coaching greatness. After all, even one such championship with Leicester is worth more than dozens of titles with teams like Bayern, Real Madrid, PSG, Man United, Milan (in his Berlusconian version). Ranieri is also the second most decorated coach in the history of Fiorentina and in the history of Valencia. And winning trophies with Fiorentina and Valencia is also much more difficult than with Real Madrid and Bayern!
But still, the main virtue of Ranieri, for which Claudio is basically impossible not to like and respect, is his human qualities. Again, there has probably never been a kinder, more honest, more decent man in the history of soccer than CR. In a world with too much hate, Ranieri is a real outlet. Just looking at Claudio's face, in his eyes, makes you feel so warm inside.
With all that said, Ranieri has experienced an incredible amount of all sorts of injustices and harsh blows of soccer fate during his career; and despite this, CR has not hardened, not embittered, and continues to this day to be a man who radiates only goodness, positivity and warmth.
Happy birthday, Claudio!